Adepoju: Eagles Failed Against Madagascar Because Of Mikel, Ogu, Etebo Combination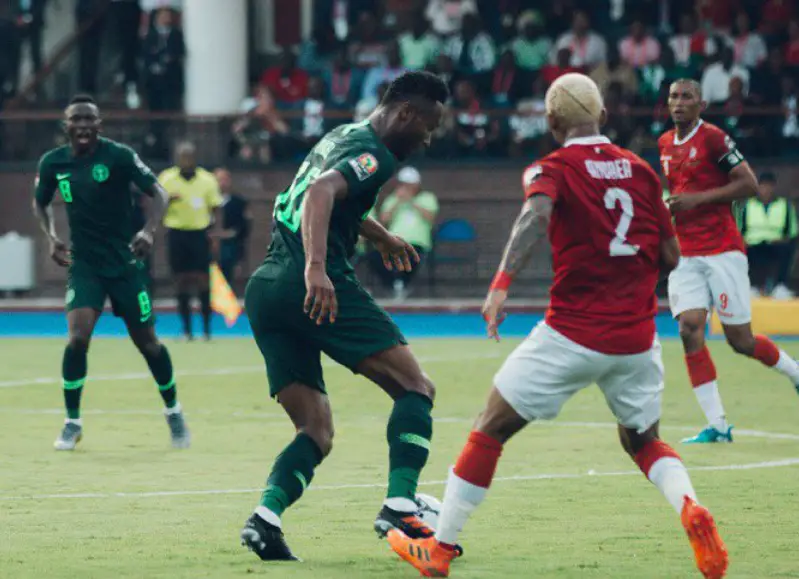 Mutiu Adepoju, a former Nigeria international, has
expressed his disappointment at the Super Eagles'
2-0 defeat to Madagascar in Sunday's AFCON 2019
Group B match, attributing it to Gernot Rohr's use of
three defensive midfielders in the game, Completesports.com reports.
"It was a result I least expected from the Super
Eagles against Madagascar. It was also a performance
I never expected from them considering their
performances and results in their two previous
games," Adepoju remarked. "They were poor and I'm totally disappointed.
Considering their previous games against Burundi and
Guinea, I expected a far much better Super Eagles
against against Madagascar." "But that wasn't to be and I'm sure every other
Nigerian is equally bruised emotionally by what they
say Eagles put up against Madagascar".
The former Racing Santander of Spain forward refuses
to admit that the lethargic showing of three-time
African champions was down to to coach Gernot
Rohr's near wholesome changes in the team's
starting lineup. Rohr made five changes from the squad that
decimated Guinea 1-0 to ensure Super Eagles booked
a knockout stage ticket with a game to spare. "I don't think so. But I think it has to do with the
inclusion of Mikel Obi, John Ogu and Oghenekaro Etebo
in the game," Adepoju, nicknamed Head Master
during his playing days stated. " Yes, they are all midfielders, but playing three
defensive midfielders at the same time could be
counter productive as it turned out. "There was no transition from defence to midfield,
no transition from midfield to attack and no supply
from the flanks". The one time General Manager of Shooting Stars Sports
Club (3SC), posits that Super Eagles' disappointing
performance against Madagascar has eroded
people's confidence in them heading to the
knockout stages of the competition. "Yeah, when you lose a game you ought not lose,
when you don't play up to the scratch as you should,
you certainly lose your supporters' confidence. "The next opponents are going to be tougher
because they are likely going to be winners in their
group, and we couldn't do well against Madagascar. "Its very unfortunate," Adepoju submitted.


Breaking News:Former Flying Eagles captain Isaac Promise slumps, dies in US
Former Flying Eagles skipper, Isaac Promise, has passed away at the age of 31.
Isaac, who captained Nigeria to the 2008 Olympic silver medal and scored 79 goals in 11 professional seasons in Turkey, died late Wednesday after collapsing at his apartment gym in Austin, Texas, authorities said.
He was playing for the Austin Bold of the USL and the team confirmed his death on Thursday.
Police said authorities were called after a report of a deceased person at Isaac's apartment building but no further details were immediately available.
Austin Bold owner, Bobby Epstein, said Promise collapsed at the apartment gym and no foul play was suspected.
"The greatest loss a team can suffer is not on the scoreboard, it's the death of a fellow teammate," wrote Epstein.
"It's with shock and grief that we acknowledge the sudden death of Promise Isaac.
"On behalf of the BOLD organisation; we wish his wife, children and family strength and peace as they struggle to cope with his death."
Promise captained Nigeria to the 2003 FIFA U-17 World Cup held in Finland.
He also played for Nigeria at the 2005 World Youth Championship and captained the Under-23 national team that lost the 2008 Olympic final 1-0 to Lionel Messi and Argentina.
Promise made his senior national team debut in 2009 before fading off the international radar after three games and one goal.

Before his demise, he had several stints across Turkey, Saudi Arabia and the United States of America.

AFCON 2019: Why I cried before press after Tunisia defeated Ghana – Mubarak Wakaso
Ghana midfielder, Mubarak Wakaso, has explained why he cried in front of the press after his side was defeated by Tunisia at the 2019 Africa Cup of Nations, AFCON, round of 16 on Monday.
SEARCH
Daily Post Nigeria
Daily Post Nigeria
SPORTAFCON 2019: Why I cried before press after Tunisia defeated Ghana – Mubarak WakasoPublished on July 9, 2019 By Don Silas
Ghana midfielder, Mubarak Wakaso, has explained why he cried in front of the press after his side was defeated by Tunisia at the 2019 Africa Cup of Nations, AFCON, round of 16 on Monday.
The Black Stars' hopes of lifting a fifth continental title ended, following a 5-4 loss on penalties to Taha Yassine Khenissi's men, after the game ended 1-1.
Wakaso said he could not hold back his tears in front of the press during his receipt of the Man of the Match award because he thought Ghana would win this year's AFCON after working hard in all the matches they had played.
"I can't even describe how we are feeling but the only thing I have is I need to thank my colleagues the whole time for their support," Wakaso said at the post-match press conference.
"It's part of the game. I think we need to think about our future – that's the only thing we can do.
"My reason [for being so emotional and weeping in the press conference] was that I thought this tournament was for us due to the hard work we've been putting in, in every match.
"That is the reason why I'm like this right now but still we have a future so we need to think ahead."

Ghana will now have to wait until Cameroon 2021 AFCON to possibly end a 39-year trophy drought.

AFCON 2019: Why Super Eagles lost to Madagascar –Rohr

The coach of the Nigeria national team, Gernot Rohr, has tried to explain possible factors responsible for the Super Eagles' shocking 2-0 defeat against Madagascar at the 2019 Africa Cup of Nations (AFCON) on Sunday.
While Rohr admitted that his players performed below-par, he was quick to state that Madagascar team are also a good team and there was nothing to be ashamed of, losing to the team that first secured qualification for AFCON in 2019. Sunday's defeat ended the Super Eagles unbeaten run of nine games in the biennial show piece since 2010 and also saw them finish as Group B runners-up. Lalaina Nomenjanahary broke the deadlock in the 13th minute after benefitting from a defensive slip from Leon Balogun. The three-time African champions found it difficult to score an equaliser and Carolus Andriamahitsinoro doubled the lead for Madagascar with his deflected free-kick in the 53rd minute.
In his assessment of the team's display, Rohr said his players were 'relaxed' but he was not surprised by the result. "We lost to a good team because Madagascar was the first to qualify for the tournament and there is no shame in losing to such a team," Rohr said in his post-match interview. "Madagascar was the better team today (Sunday). We started with giving them a gift and after, we could not find a solution. We made five changes because we wanted to give a rest to some players and also preserve those with cards. "Sometimes it happens when you are already qualified; the players are relaxed and playing easy."

.@NGSuperEagles Gernot Rohr gives his verdict after today's result and #SuperEagles upcoming games